The Year in Review
December 24, 2010
As you may have seen, Twitter released a little microsite to recap some awesome stuff that happened this past year. It was a fast-paced project that we ended up scaling back quite a bit to hit our deadlines, but it was fun nonetheless. It's not my typical aesthetic, so it was a creative outlet and fun way to spice up our blog posts.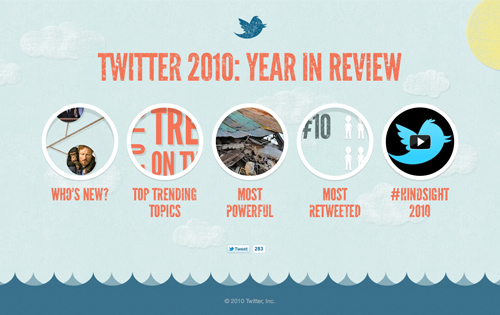 Josh Brewer, one of our newest designers to join the Twitter Design team, led the charge and overall creative direction. We kept it pretty scrappy and just tried to have fun with the design. I think it worked out pretty well given the time and project constraints.
We have some ideas for making it even more awesome next year. 2011 is going to be huge for Twitter and I'm stoked to be a part of it.