Daring Fireball user style
January 1, 2011
My eyes don't handle light text on dark backgrounds very well—it physically hurts to even try. I love reading Daring Fireball, but if the name sounds familiar, then you know of the small text, dark background, and low contrast.
Although I read a lot of his posts in Reeder for Mac, I do find myself visiting the full site often. Instead of just whining about it, I figure I'll whine about it and do something about it. In comes my Daring Fireball user style.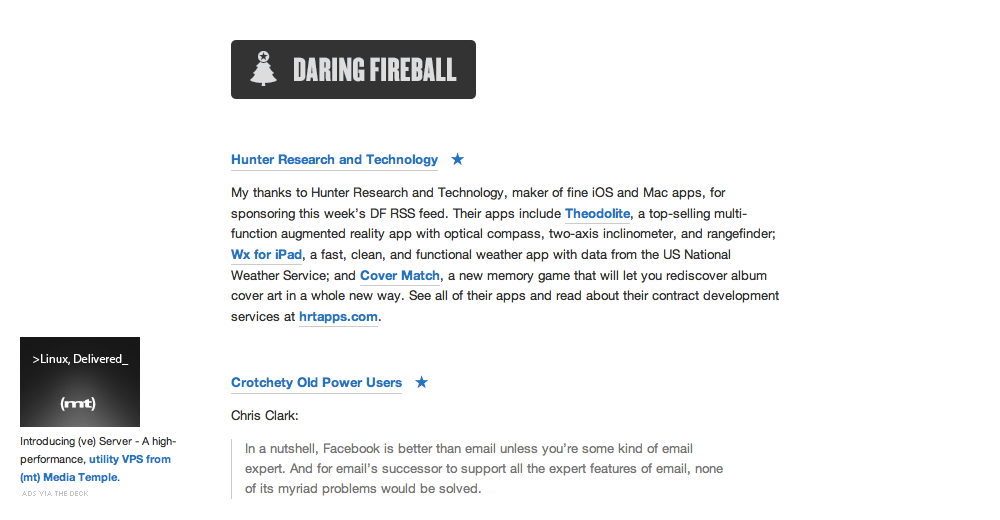 What's changed
Here's the rundown on what it does:
white background with dark gray text
bumped up the font-size
eliminated the sidebar's nav
fixed the ads to the bottom left (no need to hide them, they're good quality)
resized the main column to 550px
changed out link colors to blue for more contrast
and lastly, miscellaneous spacing changes
Grab a copy
Go ahead and snag a copy for yourself—just copy and paste the CSS below.
Not sure how to use it? Check out these extensions for your favorite browsers:
Enjoy!